"Green bananas take time to ripen. Do not wait. There may not be a tomorrow."
– anonymous
Buy Links
Amazon
Smashwords
KOBO
B&N NOOK
Celeste Hamlin, the seventy-five year old widow, CEO of O.U.R. Airlines specializing in chartered vacations, has a goal… She needs to once more conquer the six mountains in the Saranac Lake region before deciding what to do with the rest of her life.
Sixty-two year old Professor Paul Harris, is on sabbatical to hike and relax. When he meets the dynamic Celeste, he recalls the last words his wife said before she passed. "Find another love and begin again."
What happens next between an older woman and younger man is a story of gentle passion and discovery of The Beginning… Not The End.
EDITORIAL REVIEW – reviewed by Chelle Cordero, Combining Passion & Suspense
You are never too weathered to learn how to love again. Despite her losses, "young" age, and past regrets, Celeste learns how to fall in love when she meets the "younger man" Paul. As if they had known each other already they find things they have in common as well as a mutual attraction. Hiking mountains and conquering inhibitions, Celeste is warmed by Paul's encouragement and zest for life. The author uses humor, compassion, spicy love scenes, and endearing friendships to paint a very realistic and intriguing story.
This tale of bittersweet memories and truly living for today captured this reader – No Time for Green Bananas becomes more than a phrase, it becomes a mantra to live by and a lesson not to waste time on uncertainties. As always, Charmaine Gordon has delivered a fantastic read.
other books by Charmaine Gordon
including her latest release: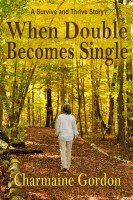 Before that awful night, Sharon Michaels had never even driven herself at night… eaten at a table for one… or made plans on her own. Alone after losing her husband – her rock– she's left with a business to run, a great son and his wonderful wife and children – far away in Denmark, a bad son and his nasty wife, and two teenage grandchildren she barely knows.