'The Serial Dater's Shopping List'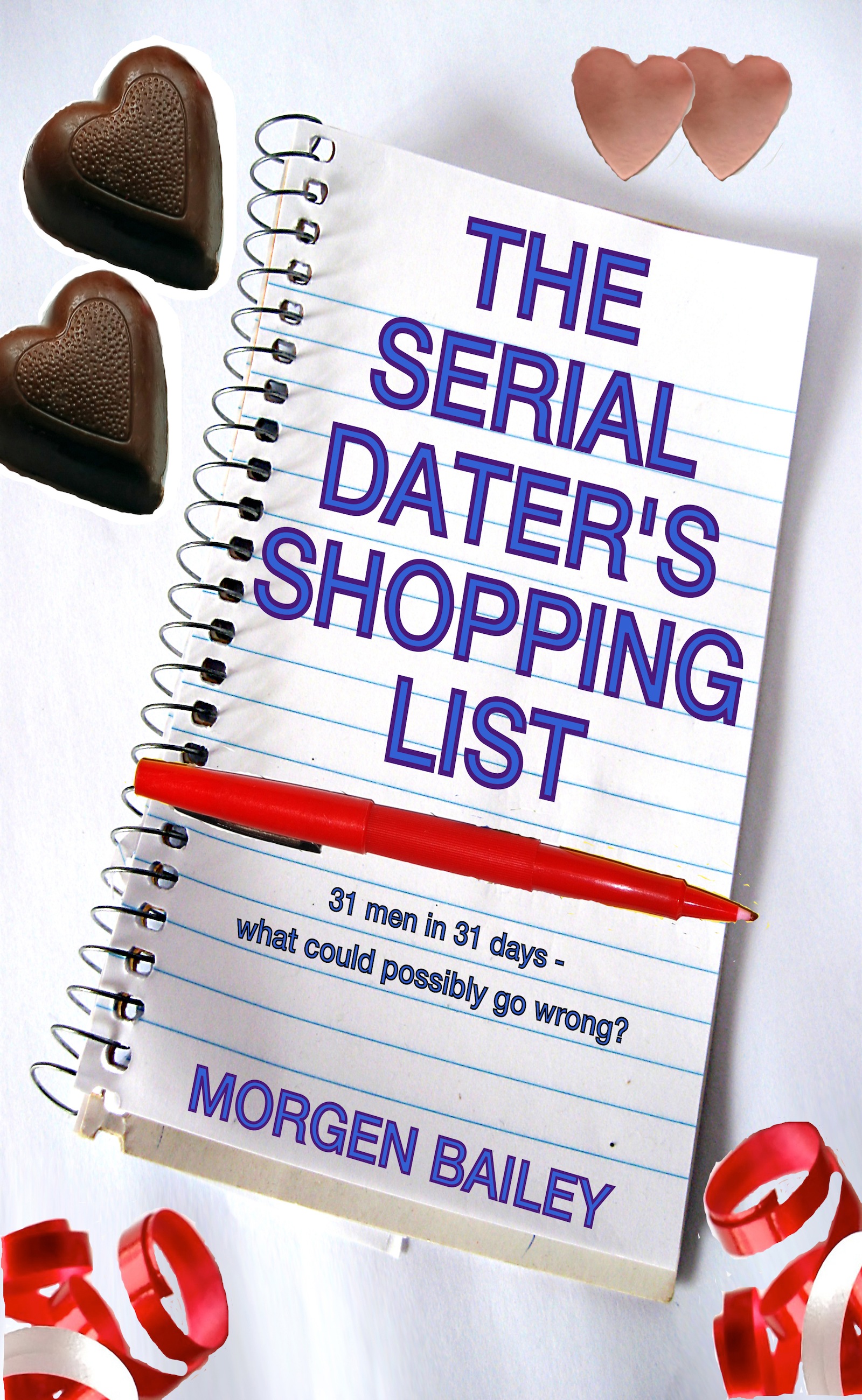 31 men in 31 days – what could possibly go wrong?
Isobel MacFarlane is a recently-turned-40 journalist who usually writes a technology column for a newspaper based in Northampton, England, but her somewhat-intimidating boss, William, has set her the task of meeting 31 men, via a local internet dating site, all within a month. Having an active, though fruitless, social life with her friend and 'Health & Beauty' colleague Donna, she knows what she wants in a man, so creates a shopping list of dos and don'ts, and starts ticking them off as she meets Mr Could Be Right Except For, Mr Not Bad, Mr Oh My Goodness and Mr Oh So Very Wrong. Follow the ups (there are a few) and downs (there are many) of the dating process and intertwined with her experiences, get to know her colleague and family, including her niece Lola who, apart from being an amazing storyteller, can eat ambidextrously whilst wearing a Princess glove puppet on her right hand, and Baby, William's non-too-healthy African Grey parrot.
***
Excerpt:
I shake my head, attempt a smile and watch him clear the plate. Finally, he picks up the chicken bones and I expect him to eat them whole, but he just licks them clean and drops them back on the plate. He issues another belch, this time apologising as he realises it was loud enough to draw attention to himself, as if the devouring of an African family's monthly intake wasn't bad enough. Throughout the whole episode, there's not been a word of proper chat between us. He's been too busy eating and I've been concentrating on keeping my hotpot down.
As the last morsel of food disappears into the black hole, the waitress heads for our table, I assume to clear the platter away, but she's holding a plate above her left shoulder. I'm relieved it's not big enough to be another meal for two, although I wouldn't put it past him, but more like a standard sized dinner plate. I will it to be nothing I would normally eat, but am sorely disappointed as laid before me is a double helping of, the waitress announces, "homemade Banoffee pie". I could cry.
I smile less than half-heartedly at the waitress who looks sympathetically at me before retreating to the kitchen, I assume to gossip about Table 14. At the thought of the beautiful dessert being dismembered in such a way, I look at Tim's eyebrows. I can't bear to look any further down as his nose is running and it's close to meeting the barbecue sauce on his upper lip. I've finally had enough and blurt out, "I'm sorry, but I've just remembered I've left my oven on." But then I recall Duncan's battle to lose weight and feel guilty, until Tim's mouth gapes open revealing a mixture of toffee syrup and pastry, which threaten to spill over the edge like a coin cascade at a fair, and I can't bear to look at him anymore.
As I get up to leave, he splutters a, "so, do you want to meet again?" and I don't know what to say without hurting his feelings. I mumble a non-committal, "I'll message you" and almost do a Usain-Bolt-sprint down the stairs.
***
Morgen Bailey biography
Based in Northamptonshire, England, Morgen Bailey ("Morgen with an E") is a prolific blogger, editor / critiquer, tutor, speaker, and podcaster. Chair of two writing groups, she is a freelance author of numerous short stories, novels, articles, and some poetry. Like her, her blog, http://morgenbailey.wordpress.com, is consumed by all things literary. Her email is morgen@morgenbailey.com. 
Blog: http://morgenbailey.wordpress.com
Amazon.com: http://www.amazon.com/Morgen-Bailey/e/B007SNIBF8
Amazon.co.uk: http://www.amazon.co.uk/Morgen-Bailey/e/B007SNIBF8
Smashwords: https://www.smashwords.com/profile/view/morgenbailey
Twitter: https://twitter.com/morgenwriteruk and https://twitter.com/NtonWritingGrps
Facebook: http://www.facebook.com/morgenwriteruk / http://www.facebook.com/MorgenBaileyAuthor
Goodreads: http://www.goodreads.com/author/show/5313774.Morgen_Bailey
Morgen's books: http://morgenbailey.wordpress.com/books-mine