Future Love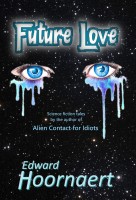 Edward Hoornaert penned five intriguing sci-fi/romance stories that we can all relate to. My personal favorite was To Cry in Zero G and the story of how lust turns to caring. A beautiful woman who is ready to sacrifice her dignity because she feels guilty and a dying man who has yearned for her touch — the poignant time they spend together is guaranteed to leave an imprint on your heart.
~~~~~
In the future, love will get even tougher . . . Set out on a journey into tomorrow in five short stories that explore how love can sometimes sting, sometimes heal—and always transform the mind.
To Cry in Zero G
A spaceman wins the woman of his dreams . . . too late.
Devil, Devil
A stranded time-traveler searches for the love he abandoned in the past.
Thimbleriggers
A crook invents a new form of pornography, but it teaches him about love. Not sex.
Audition at Sexsmith Station
A woman crosses the galaxy for revenge. But revenge isn't as simple as she expected.
Funeral in a Teriyaki Cathedral
A man pursues his beloved beyond death, but finds only the evil in his own heart.
Amazon Customer Review
If you like Sci-fi or Sci-fi romance, you'll love this book: five short sci-fi stories with a romantic element. Each one has a creative, interesting plotline, complex characters, and a unique voice. Unlike some other short stories, these don't feel like longer works that are abruptly cut off. Author Ed Hoorneart focuses in on the right time and scenes to create complete stories. Five stars all the way!
buy links