by Charmaine Gordon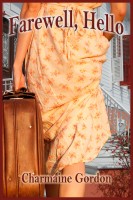 "Charmaine Gordon's book, Farewell. Hello, is a wonderful tale of the beginnings of a relationship and its twists and turns.  The beauty that shifts from idealism to reality hurts and surprises and I found myself really feeling the bygone time of purity, innocence and nostalgia of our heroine, Joy Davison.  Thanks Charmaine for such a great read and a throwback to the Chicago of the early 50s!
Her website refers to her work as "stories of women who survive and thrive" and it comes right off the pages: satisfaction, empowerment and at least a touch of fine romance on almost every page."
   ~reviewed by Paul Harris
That first kiss… that first incredible, agonizing, bellyache-making first kiss. Soon, Joy and Danny are inseparable, planning a future – a life, together. A kiss goodbye couldn't prepare the high school sweethearts for all that lay ahead. A family crisis, a tornado, and the Korean War brought their plans to a screeching halt, and changed their futures… but maybe not their forever.
About the Author
Charmaine Gordon writes books about women who Survive and Thrive. Her motto is take one step and then another to leave your past behind and begin again. Six books and several short stories in three years, she's always at work on the next story. The books include To Be Continued, Starting Over, Now What?, Reconstructing Charlie, Sin of Omission and The Catch, and her series of Mature Romances, The Beginning…Not the End."I didn't realize at the time while working as an actor in NYC, I'd become a sponge soaking up dialogue, setting, and stage directions. I learned many tools of writing during the years watching directors like Mike Nichols and actors including Harrison Ford, Anthony Hopkins, and Billy Crystal. And would you believe, I was Geraldine Ferraro's stand– in leg model, my first job giving me entrée into all the Unions needed to work. When the sweet time ended, I began another career and creative juices flowed."