Coming soon from VHP...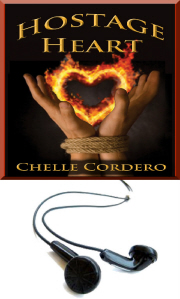 HOSTAGE HEART & FINAL SIN
will soon be available for your listening pleasure!
Hostage Heart by Chelle Cordero
Life was hard after the hurricanes swept through, destroying her parents' home and livelihood… An errand for her boss – a chance encounter with a crew of bank robbers – a kind man who tried to help her … a man who isn't all he seems…no, he is so much more
Final Sin by Chelle Cordero
Deputy Sheriff Commander Jake Carson has his hands full… investigation of a brutal multiple homicide, a troubled son and a vindictive ex-wife. He meets young, free-spirited paramedic Julie Jennings. When Julie becomes the subject of an obsession, it puts both of them in danger…
Vanilla Heart Publishing is pleased to announce that in the coming weeks and months,
a long list of
selected VHP works will be available IN AUDIO.
All audiobooks will be available on
Amazon.com, Audible.com, and iTunes!