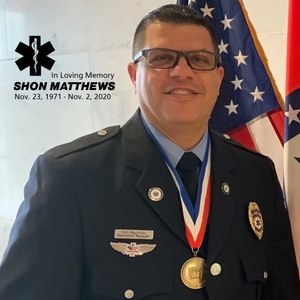 Paramedic Shon Matthews worked in LifeNet's Texarkana Division since October of 2007. Prior to LifeNet, Shon spent nearly two decades working at Alumax Mill Products, as both union president and a finishing operator before a family accident inspired Shon to change career paths.
Within a few months of the accident, Shon joined the Booker Bridge Volunteer Fire Department in Miller County, Arkansas, as a first responder. After meeting a paramedic who encouraged him to go into EMS, Shon decided to start EMT school and began working for LifeNet EMS part-time in 2007 as an EMT while continuing his education to become a paramedic.
In March of 2009, Shon joined LifeNet full-time, and a few years later, he was promoted to a field training officer role. He quickly proved himself as an asset in that position, and in May of 2013, when one of the company's Operations Managers (OMs) was deployed overseas, Shon was selected to temporarily fill that role for nine months.
When it was time for Shon to return to his role working as a ground paramedic, the LifeNet Air medical helicopter in Texarkana had a position open. Shon was asked to fill-in as a flight medic.
In June of 2016, Shon was offered a full-time role as a flight medic on LifeNet Air. It was a job he had dreamed about having since starting in EMS. Less than a year later, a full-time opening came up for an Operations Manager (OM) role. He was nominated for the  Star of Life award in 2019. Outside of EMS, Shon was a devoted family man. He adored his wife, Jennifer, and their children, Nicole and Derek.
LifeNet Paramedic Shon Matthews, 48, passed away on Monday, November 2, 2020 after contracting COVID-19.