I was very pleased to introduced VHP Author Neva Squires-Rodriguez in 2014 soon after she joined the Vanilla Heart Publishing team. You can read that first interview in the Potpourri Parlor right here 
Neva's been quite busy in the two-plus years that she's been a VHP star. I asked her a few questions to update how she has been doing —
So please come on in to my Potpourri Parlor and meet Neva Squires-Rodriguez, AGAIN.
Q: What's changed in the past 2 years – what else have you learned as a writer?  
A: Over the last two years I have really developed my social media skills.  With a ton of hard work, I was able to grow my following on Twitter and Goodreads, which is good because using these outlets helps to promote sales.
Q: What is the newest, biggest news in your professional writing life? 
A: The Anthology that I was a part of this past May, "Mother's Day Magic" hit the best seller list.  This was extremely exciting and interesting, because I was able to learn so much from this group of authors.
Q: What are your other writing endeavors?
A: I currently write a weekly column for Reflejos Bilingual Newspaper, a newspaper that reflects the life of Latinos in the suburbs of Chicago.  I really enjoy writing for this newspaper because it helps to promote the positive in the Latino community.
Q: How has writing changed your personal life?
A: I am definitely the same person, I just would rather sit at a computer and type.  Often I become lost in conversations, planning out my next story as I stare off into space.   It's hard because sometimes my imagination is a bit overwhelming!  How do your family members feel about your being a published author?  It's always interesting to see copies of my books on my relatives' coffee tables.  Sometimes I forget that I was the one who wrote it and the Liliana Series covers always get me with their beauty.
Q: How has your personal life (ie: work) affected your writing? 
A: Over the last year I have really taken a step back from my writing, due to various things going on in my life such as work and well stress.  My mother-in-law was diagnosed with Stage 4 Pulmonary Cancer this past year and this past November, her body succumbed to the disease.
Q: Anything else you'd like to add?.
A: Next year my New Year's Resolution is going to get this amazing story I've been working on finished and published.  It's really going to be mind-blowing because it's going to be different than any place I've ever written about before. (That's always fun, because I enjoy doing research, especially when I'm learning about different cultures.)
Find Neva's books on
Smashwords
Amazon
Barnes & Noble
and other online retailers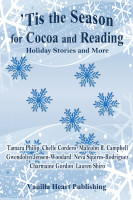 'Tis the Season for Cocoa and Reading: Holiday Stories and More     …a collection of short stories by Vanilla Heart Publishing Authors Tamara Philip, Chelle Cordero, Malcolm R. Campbell, Gwendolyn Jensen-Woodard, Neva Squires-Rodriguez, Charmaine Gordon, and Lauren Shiro.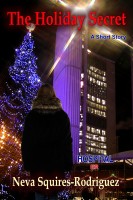 The Holiday Secret
Will Evaliz finally realize that the most important thing she could have wanted for Christmas was something she had the entire time?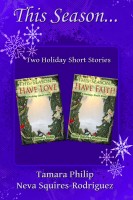 This Season…
Two Holiday Short Stories in one volume, from Tamara Philip (The Cupid Series) and Neva Squires-Rodriguez (The Liliana Trilogy).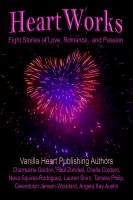 HeartWorks
Eight Great Stories of Love, Passion, and Romance from Vanilla Heart Publishing Authors Charmaine Gordon, Paul Zunckel, Chelle Cordero, Neva Squires-Rodriguez, Lauren Shiro, Tamara Philip, Gwendolyn Jensen-Woodard, and Angela Kay Austin.
The devastating secret Liliana learns pushes her to search for answers from her father, El Jefe. But, nothing can prepare her for the tragedy that will come of her relationship with her father… or the priceless opportunity that will come from it.
Just when Liliana is supposed to be experiencing the happy feelings of a new bride, she finds herself in a very difficult predicament. Her husband isn't the perfect man that she thought he was and she finds herself alone as her life shatters around her. She becomes lost in a world of deceit and she struggles with the knowledge that her life with Antonio will never be the same.
Boom! That deafening sound changed Liliana's life forever. Her mother sits dead besides her, shot to death on the streets of Chicago. Within weeks, Liliana is sent to live with a father she doesn't know in Colombia. While working to pay off her father's debt, she meets the love of her life, who frees her from her father, only to bring her into a new world of twisted surprises.
Mother's Magic …with Love

Craving a poignant, nostalgic read? Or perhaps you desire a scintillating tale of romance and heartbreak? This top-ten bestselling anthology, by multi-awarding winning and #1 bestselling authors, celebrates the strength and determination of women who are mothers. You'll enjoy 12 previously unpublished stories 
by
Angela Ford, Tamara Ferguson, Daisy Banks, Mary Crawford, Allyson R. Abbott, Tamara Philip, Neva Squires-Rodriguez, Adrienne Ruvalcaba,
Q.D. Purdu, Cary Allen Stone, Tyler Hosea, Anna Celeste Burke, and Cornelia Amiri
.
Find Author Neva Squires-Rodriguez on