Please mark your calendars…
I'll be on Today's Author radio program on Monday, May 21 at 7AM EST
We'll be talking about my EMS based murder mystery novel
Hyphema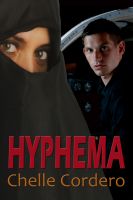 Hyphema

is a thriller involving murder, suspense, prejudice, love, and emergency medical services. Former New York Paramedic Matt Garratti trains as a flight medic, but when the economy forces a career relocation he moves his immigrant Pakistani-Muslim wife and infant son to North Carolina.

The area of northeast North Carolina the Garratti family moves to is scenic and known for "southern hospitality", but there are huge pockets of town folk who have never met a Muslim believer and only know of "them" from news reports after 9/11.

Matt's wife Sudah is looked at with disdain by some of their neighbors. When strange things happen that threaten the small family's well-being, there are those, including the local police, who erroneously believe that it is reaction to Sudah's ethnicity – and while no one thinks it is right, they also seem to think it is not all that serious.
*****
Matt Garratti is a character created in my murder-mystery-suspense Final Sin and Hyphema is a continuation of his story (including his marriage to Sudah). By the beginning of Hyphema, Matt has moved his family and is ready to begin his new job.
I used my own background as a NYS EMT (26 yrs) as well as the experiences of other EMS personnel I know to build Matt's medical background.
Sept 11, 2001 changed our world and it put a new emphasis on prejudice. In Hyphema, Sudah Garratti is being held accountable for others' actions. There are those who have problems with the "mixed marriage" and those who cannot understand that all people have good and bad.
Hyphema

is a study of culture, clashes of personalities, blame, and suspense.